Fuse 33 Makerspace is hosting a Intro Laser Cutter Workshop. This level course is ideal for those who want to learn about 'what's possible' with a laser cutter to create personal projects or commercial products. Whether you're an artist, trades person or passionate DIYer, laser cutters are powerful tools that can cut, etch and engrave a wide range of materials to create nearly anything you can imagine.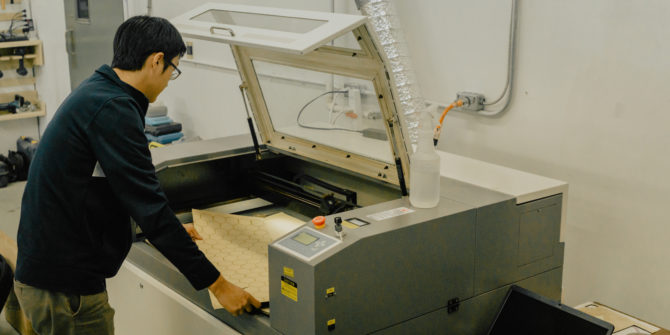 Use your creativity to start a small business
Once you learn how to use the machine, you could start your own small laser cutter business!
Create a wide range of high demand projects including signage, menus, public art sculptures, outdoor seating, signage, business cards furniture, jewelry and more.
Try out our machines and see if laser cutting is for you. 
What You'll Learn in the WTF is a Laser Cutter Workshop
How to use the laser cutter software to turn images into vector files
How to cut and engrave different types of materials
What materials are best and why (tried and tested by Fuse 33)
How to level and focus the laser
How to adjust settings like power and speed depending on if you're etching or cutting
Become a Laser Cutter Apprentice
Here at Fuse 33, we regularly get requests for laser cutter fabrication jobs, so once you learn the basics, we can get you started with some laser cutting gigs using our machines and start making money!
What Materials Can I Cut?
*wood *plastic *aluminum *paper *cardboard *stone *glass *more!
Thursday May 25th 2023
Thurs June 15th 2023
Thurs July 13th 2023
Course Location:1720 Radisson Dr SE, Calgary, AB T2A 1Z8
**Once we have a few people on the list we'll schedule a date that works for everyone**
Learn about our other courses
Including more advanced laser courses!