Over the last several weeks, Fuse 33 Makerspace hosted the first (of many) collaborative building days to construct the 'Effigy' for the Freezer Burn 2023 event. Artist Ken Hacke, a makerspace member, coordinated the build and designed the structure. A group of volunteers are hard at work to complete the structure in time for the event June 22-26 2023.
Designing for Community Builds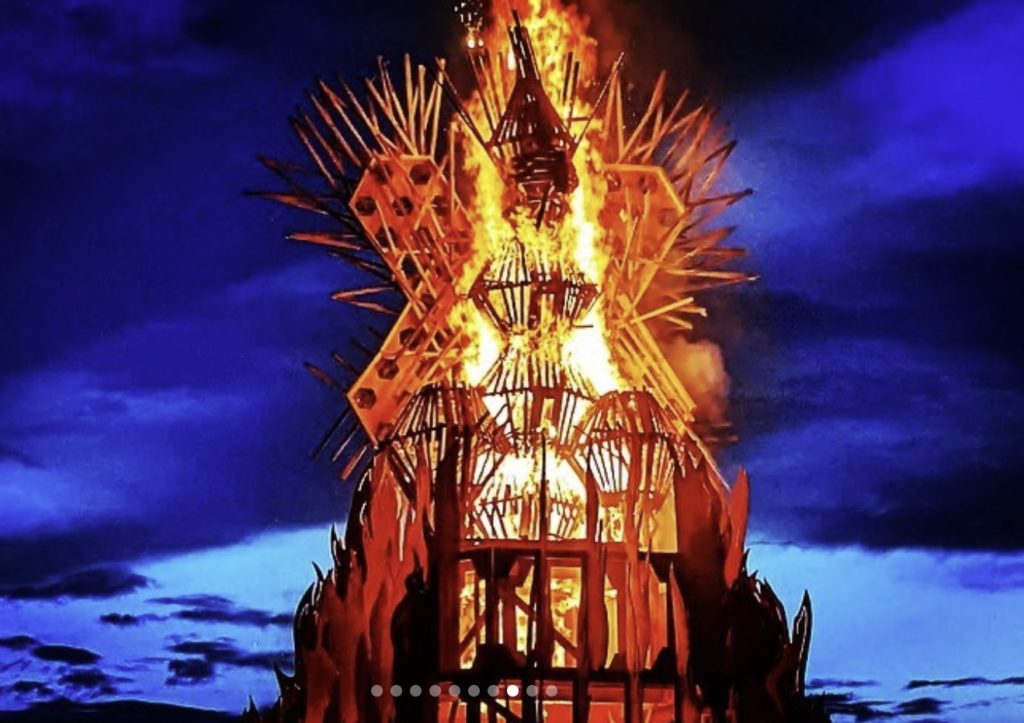 Last year, Hacke built the Temple for Freezer Burn. As a community based event, these large sculpture are essential to the festival culture and are built by teams of amateur and experts builders. These builders are volunteers from the Burning Man community. Much like the main Burning Man event in Nevada, the Temple and the Effigy are often the largest sculptures at the festival and get ceremonially burned at the end of the event. 
Below, Hacke describes the process of designing the Effigy and how he accounts the method of community based construction in the design process
"For the Effigy design, Ken designed specifically around having a large group of volunteers…."The nature of this design, because its a bunch of repetitive geometries, made it great to work with a large group. It was able to put somebody at a task and say 'Hey, I want 196 boards cut at this length, cut this way and this way and they're able to just repeat and repeat'"
Help Build the Effigy for Freezer Burn 2023

What is Freezer Burn? A regional Burning Man community event hosted. According to the official website, they aim to  "create a temporary community out on the prairie to strengthen our ties with old friends and to forge friendships with newcomers to the Burning Man experience."
Why Volunteer to Build? You can meet local artists, tradespeople, Burner and Fuse 33 community members and learn new skills! No building experience nessecary.
What is the location we are building at? We are building in the workshop and parking lot at Fuse 33 Makerspace which is located in South East Calgary near International Ave at 1720 Radisson Dr SE, Calgary, AB T2A 1Z8.
Dates we need help: Each weekend before the event (next build is June 17-18). Volunteers will be fed lunch/snacks.
Who do I contact to volunteer? freezerburneffigy@gmail.com
Buy Tickets to Freezer Burn 2023
Tickets on sale until June 16! Get yours now!